7 Fun Fall Activities … That'll Get You Outside!
Alright, I'm going to make this one quick…because the weather outside is amazing and I want to get out there and enjoy it with Britt and our girls. But before I do, I wanted to provide you with 7 fun fall activities that you could do with your family…and friends if you're so inclined.
1. Create Leaf Rubbing Artwork
I know, this one seems obvious…so much so that you may have forgotten how much fun you had making leaf rubbings as a kid. But it's so easy and I'm certain you have all that you'll need to make some fall-themed artwork that your kids are sure to take great pride in.
But like all the other activities I've listed, don't just limit it to the activity itself…spend time reflecting on what you learned and how much fun you had. During and after this activity make sure to take the time to discuss the parts of the leaf and how each leaf is different. It will give your kids a much greater appreciation and love for nature.
To get a list of supplies and instructions on making leaf rubbings jump on over to this Edventures with Kids' post…where they also provide a simple diagram on the parts of a leaf.
One of the things that your kids might ask while making their one-of-a-kind leaf creations is "Why do leaves change color?" If so…and you're up for a little science lesson yourself, take a look at the post I did last fall on that very subject.
2. Create a Pinecone Garland
If your yard looks like ours, it's littered with pinecones. Really of all sizes. But if you don't have pine trees in your yard or the pinecones you find aren't the right size, take the opportunity to go on a nature hike at a nearby park with your family.  And if you come up empty or you don't have the time,  you can buy pinecones at a local craft store or even online.
Along with a few micro-pumpkins and some other handcrafted fall creations, Britt and the girls added a little autumn cheer to our mantle last week with the pinecone garland they made a few years back. Check out Britt's post from last October where she provides a materials list and detailed instructions for not only making a pinecone garland, but for hanging one as well.
3. Go on a Fall Scavenger Hunt
One of the things you could do with your family that requires the least bit of prep work is to go on a fall-themed scavenger hunt. All you need is a list of things you'd commonly…and uniquely…find outside during the fall months.
If you don't want to take the time to make your own list, check out this awesome list from kids activities Blog…where they provide you with a handy printable.
You could limit your hunt to your back yard, expand it to your neighborhood, or go to a nearby park. To add a little bit of competition, break into teams and you could even include some of your neighborhood friends. Bring along a bag to collect your fall finds or if you want to go high-tech simply take pics on your phone.
Regardless, make sure you have everyone come back together to share what they've found and discuss the adventures that they had.
4. Make a Scarecrow
A couple of years ago we were searching for a way to keep critters from gobbling up the fresh veggies we were growing in our family garden. Among other ways, we decided to make a scarecrow. We named her "Sally the Scarecrow."
Although Sally hasn't performed that well at her job, she was a lot of fun to make as a family. And besides that, we love how Sally has added a personal touch to our veggie garden.
If you'd like to make a scarecrow with your family, check out the post that Britt did on RYGblog. There she provides step-by-step instructions that will surely help you bring "your Sally" to life.
But if you don't have a garden, don't just skip on to the next activity. Besides pumpkins and fall leaves, there are few things that say "fall" more than a scarecrow. So consider making one simply as an autumn decoration.
5. Make Some Little Acorn People
We've not done this one yet, but given their bent toward crafting that they come by honestly from Britt and their love of homemade jewelry, I'm sure my girls will want to try their hand at making some happy acorn necklaces. And even if they don't want to add happy faces, they may like to add the pops of color or just keep them au naturale.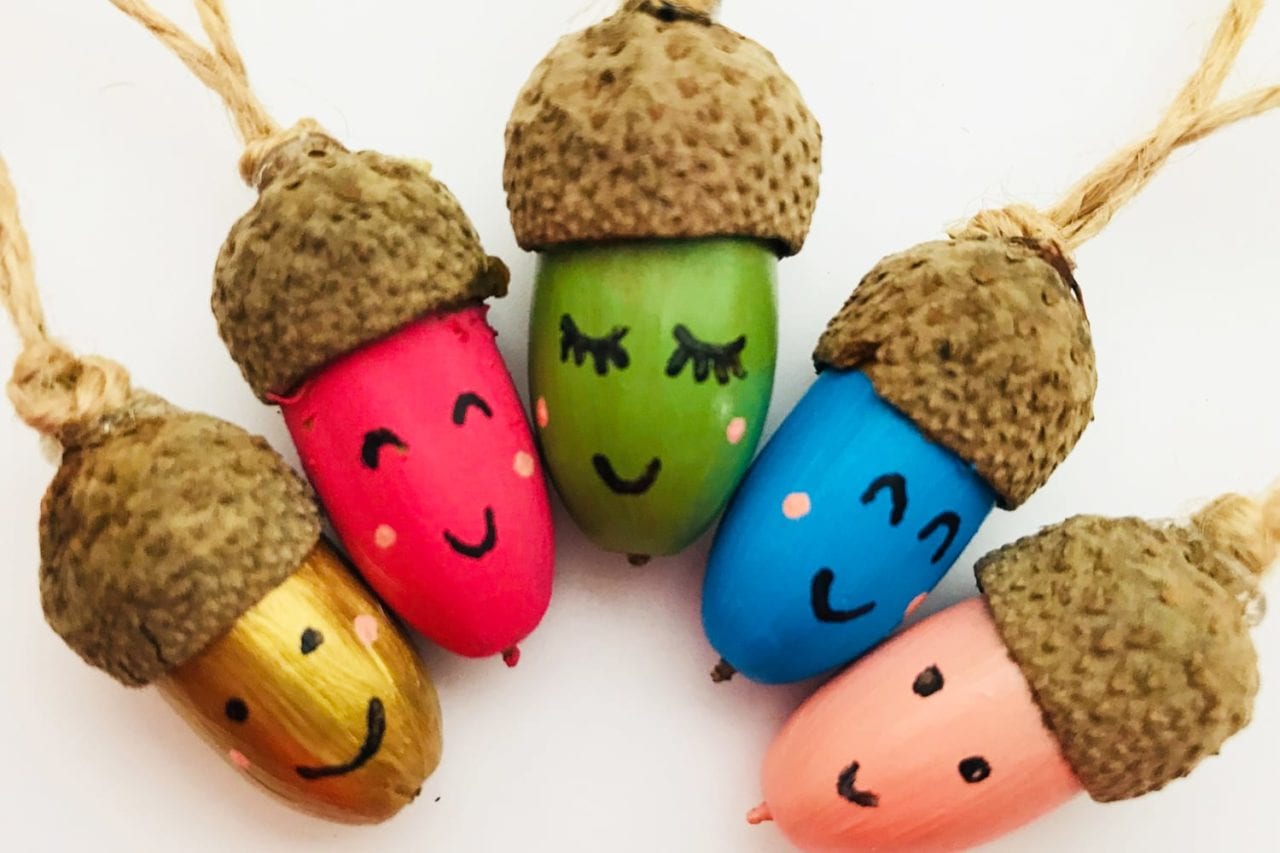 For more inspiration and all you'll need to know to make your own, hop on over to a post on Mas & Pas. You'll find it incredibly helpful and your creative juices will definitely get flowing.
Speaking of, if you're already thinking towards Thanksgiving and Christmas, don't limit your acorn-lovin' efforts to necklaces. Using the same supplies and methods, they would make great fancy napkin rings, Christmas tree ornaments, or present toppers.
6. Make Homemade Baked Cinnamon Apple Chips
Last week I shared my Auntie's fried apples with cheddar cheese recipe. So since it's still apple season in some parts of the country I thought I'd share another tasty apple recipe with you – homemade baked cinnamon apple chips. And if apple season is behind you or you don't have the time to go apple pickin' yourself, simply pick some up at the grocery store or better yet, the your local farmer's market.
The best and most helpful recipe for homemade baked cinnamon apple chips that I've found is on Paleo Grubs. Check it out and let the apple snacking begin! Your friends and family will thank you.
7. Roast Pumpkin Seeds
Up until last year, we just threw away the seeds and gook from our Jack-o-lantern making efforts. But after hearing from our friend Jessica how much she and her family love roasted pumpkin seeds, Britt decided to try make some herself.
And I'm glad she did…they were quite delicious. And not only that, they're good for you. It's a snack we'll definitely make again this year.
On a post Britt did last year she didn't just write up 1 pumpkin seed roasting recipe, but several that she gathered from friends. So check it out and find out which flavor you like best. Personally, my 2 faves are those that are seasoned with sea salt or with brown sugar…I mean, how can you go wrong with brown sugar!
So there you have it…some fun fall activities you can do with your family outside. Now get out there and enjoy this amazing crisp fall weather we're having before the winter cold forces you inside for far too long. I'm going to.
Take care friends,

If you're not already subscribed to RYG and want to get periodic updates, links to new posts & other ground redeeming info ... just enter your email address below. Easy as that!